Saga River Cruise Ships - Spirit of the Rhine and Spirit of the Danube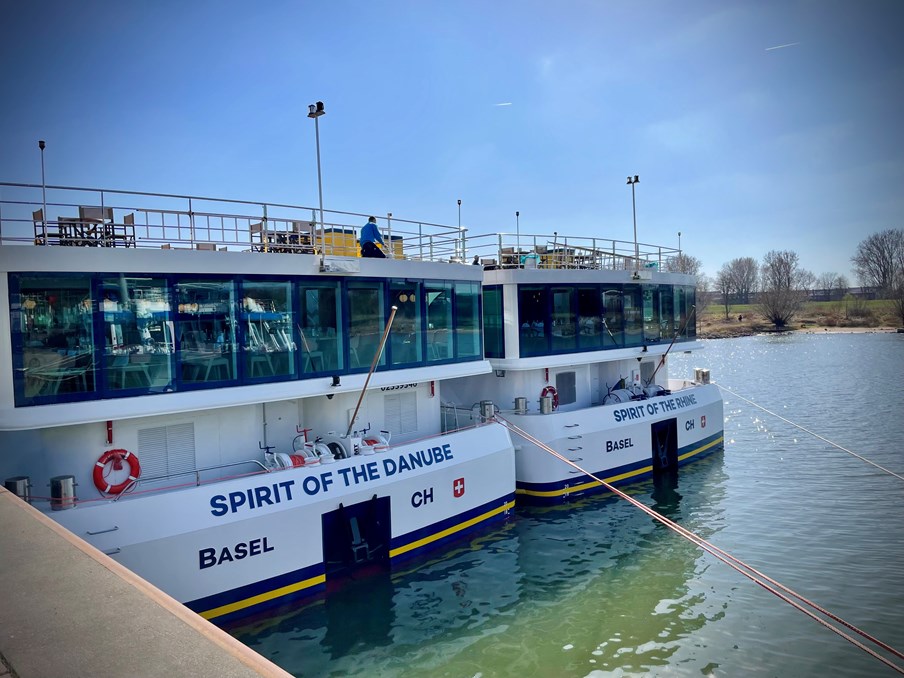 On 19 March, 2022 the brand-new Spirit of the Danube and its sister ship, Spirit of the Rhine, which undertook some Saga river cruising in late 2021, received their joint official naming ceremony in Arnhem in the Netherlands. Their Godmother is broadcaster and journalist, Dame Jenni Murray.
Both ships are owned by the shipping company Rijfers Nautical Management and built by VAHALI Shipyards.
The Master for Spirit of the Danube is Captain George Dudunica who hails from Romania and originally qualified as a First Officer through the River Navigation School. Captain Dudunica will be a familiar face to many Saga guests as he previously worked on the Filia Rheni between 2013 and 2019, during which time he qualified as Captain.
Spirit of the Rhine's Master is Captain Marinus Pols who is from Holland and operated Spirit of the Rhine on its sailings towards the end of 2021. Having grown up with parents who transported cargo ships around Europe, Marinus was born and raised on the water and became a Captain at the age of 22.
Vital statistics:
Spirit of the Rhine and Spirit of the Danube host up to 182 guests who are served by up to 50 crew. The vessels have been designed to the highest specification and have four decks and 91 guest cabins. They are 135 metres in length and 11.4 metres wide.
The on-board facilities:
Guests can enjoy two restaurants on each ship – the Panorama, which is the main restaurant open for breakfast, lunch and dinner, while the smaller Rheinfels Restaurant on Spirit of the Rhine and the Delta Restaurant on Spirit of the Danube are open for a light lunch or dinner reservation. Selected drinks are included at lunch and dinner in all the restaurants.
Both ships also boast a beautiful sundeck with hot-tub and BBQ, an indoor and outdoor terrace, library, gym and stunning panoramic lounges with floor to ceiling windows to maximise the view.
The spacious Lorelei lounge on Spirit of the Rhine and Belvedere Lounge on Spirit of the Danube offer an early-risers breakfast, afternoon tea and an all-day tea and coffee station.
The reception desk is open 24-hours a day for guests and there is also a small shop on-board.
A lift connects the upper deck, middle deck, reception area and Panorama Restaurant.
Food and beverages:
Guests are spoilt for choice on the catering front, enjoying breakfast, the option of a substantial or lighter lunch, afternoon tea, dinner – both buffet and served meals - and a late-night snack, all of which are included in the price. Local dishes are also be served to give guests an authentic taste of the region and when the weather allows, there is a BBQ lunch on the sundeck. Selected drinks are also included with lunch and dinner.
The smaller 36-seat Rhinefels and Delta lounges, are perfect for a more intimate dinner with special dishes created for each respective ship by chefs Nick Nairn and Paul Rankin.
The cabins:
There are two different types of cabins on both ships. All have a clean, sophisticated design with Spirit of the Rhine reminiscent of Saga's larger ocean ships and Spirit of the Danube based on an Art Nouveau and Danube Delta theme, with elements such as migratory birds used throughout the ship.
All cabins offer a view of the bank. Those on the upper and middle decks are 17m square and feature French balconies, while those on the lower deck are 14m square with windows.
The art:
Saga has invested in incredible art on board both ships, with Spirit of the Rhine's focusing on the river's legends such as Lorelei and Rheinfels Castle, while the art on Spirit of the Danube is focused on its river namesake with a focus on the Art Nouveau of Vienna in the Belvedere Lounge and the Danube Delta in the restaurant.
On Spirit of the Danube, artists include Beth Nicholas who has used ink and liquid leaf and the theme of nature to create a distinctive and striking piece, Michelle McKinney, whose innovative applications of contemporary industrial materials have resulted in an ethereal and delicate 3D bird composition, and Ann Bubis who has created a stunning mosaic representing the river and the places of interest that run along it. Claire Brewster's work with entomological installations of flora and fauna has resulted in a fascinating depiction of the Danube region in 3D in the upper reception area and Andrew Malone whose work focuses on altered books and hand-cut paper artworks has created some fun pieces also reflecting the bird theme for the corridors.
On Spirit of the Rhine, Sunga Park uses her unique perspective of architecture and landscapes with watercolours to create a special commission of Rheinfels castle in the Rheinfels restaurant on board. Julie Shackson uses materials she finds in the natural world to create flowing landscapes with an emotional feel.
Butterflies are a theme of the ship too and appear in the artwork including the corridor pieces which were created by butterfly wing patterns by Lauri Dunn and Lisa Haftel's 3D depiction of butterflies landing on 'the Lorelei book' in the Lorelei Lounge.
Jennifer Newman, whose work as a mixed media artist has led to unique depictions of the rivers' topography are beautifully displayed on both ships
What's included:
Saga's River Cruises operate on an all-inclusive or full-board basis (hotel stays as part of the cruise may vary). All include a complimentary door-to-door chauffeur service, or Saga can arrange car parking near the port, domestic flights or standard class rail/coach travel. Also included are at least three included excursions and all gratuities on board Spirit of the Rhine and Spirit of the Danube, return flights and transfers. All Saga River Cruises also enjoy free WiFi, a welcome drinks reception and Captain's Dinner.
Saga's reassurance promise also means that travel insurance is included on all overseas holidays with up to £5m emergency medical and repatriation cover for a variety of medical conditions, including coronavirus.
Flexible cancellation cover is also there should guests need to cancel due to a variety of medical conditions, including coronavirus, prior to departure.
Saga also offers a price promise so early bookers will never lose out so if the price is reduced after booking, guests will receive the difference back. There are also no hidden extras - if there are any additional charges, this will be made clear, up front, before booking and once booked there are no additional surcharges, regardless of what happens to fuel prices or exchange rates.
Images are available here.
Downloads