05 November 2018, 13:12
Over 500 hand-knitted poppies by Saga customers displayed at Saga's Headquarters in WWI tribute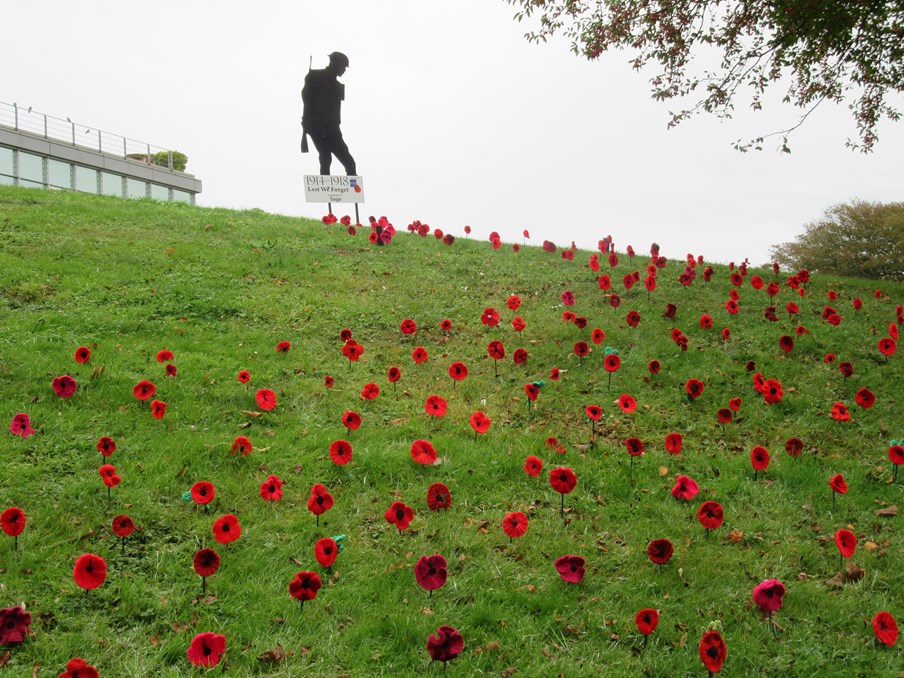 Saga displays a cascade of red poppies at its headquarters in Folkestone to commemorate the end of the First World War.
Saga Magazine readers and Saga Employees knit over 500 individual poppies.
An eye-catching cascade of poppies have been displayed at Saga's headquarters in Sandgate, Folkestone, as a symbol of remembrance to WWI's fallen.
The poppies, which have been hand knitted by Saga Magazine readers and Saga employees have been displayed next to the 'Silent Soldier' statue in the grounds of Saga's headquarters. A huge number of red poppies have been knitted in memory of all those who gave their lives, as well as purple poppies to commemorate the animal victims of war.
Both Saga Magazine readers and Saga employees have knitted over 500 individual poppies in total, which make up the eye-catching display in the Saga grounds, with many readers sending poppies in memory of relatives lost during WWI. Saga has also received a number of deliveries of poppies from knitting groups and Women's Institutes' as well as individuals, with one lady knitting a total of 107 poppies.
Upon sending poppies, one Saga Magazine reader noted, "These poppies are made in memory of my grandfathers who both served in the First World War", another said, "My grandad fought at Ypres where he sustained serious injury from shrapnel and then found himself trapped in a trench for three days with dead bodies lying on top of him. This remarkable man went on to live until he was 103 years old!"
At the end of November, the poppies will be moved to their permanent home in the Road of Remembrance in Folkestone, which was renamed in the 1920s in memory of the several million servicemen who marched along the route to reach the harbour before heading off to the continent. Folkestone's Purl Queens have been running a continuous poppy display since 2011 in the town's Remembrance Road.
Helen Wathen, Charity Fundraising and Community Manager at Saga said "It's great to see our customers and our staff mobilise to mark the centenary of the end of the First World War. The display looks stunning and really is a fitting tribute to help us remember."
ENDS
Contact the Saga Press Office email pressoffice@saga.co.uk or call 01303 774716
About Saga
Saga is a leading provider of products and services primarily tailored for customers over the age of 50 in the UK. The Saga brand has been carefully developed over the past 60 years to become one of the most recognised and trusted brands among UK consumers aged over 50. Saga is synonymous in the UK with the over 50s market and is recognised for its high quality products and services. These include cruises and holidays, home and motor insurance, savings and share dealing and the UK's award winning Saga Magazine.
Downloads