05 July 2021, 12:18
As travel resumes Saga Holidays rewards its customers with further discounts on European long-stay breaks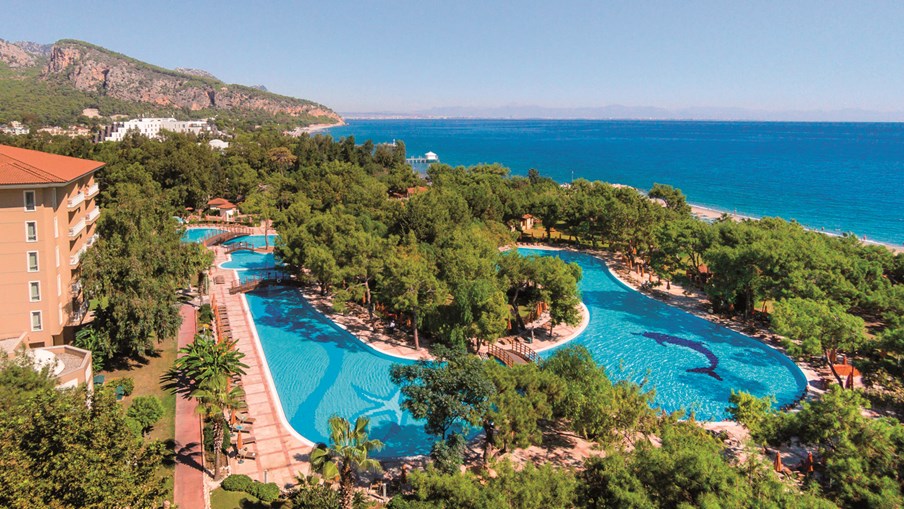 Monday July 5, 2021: With travel beginning to return and more destinations being added to the green list, Saga is inviting customers to stay longer for less as it has further reduced the price of its 2021/22 European long-stay holidays by an additional £150 on four week stays and £75 on three week stays. This is on top of existing offers inviting customers to book four weeks for the price of three and three week for the price of two*.
Consequently, a 21-day holiday with Saga can cost from just £1,073 per person and a 28-day holiday from £1,349 per person (details below). Destinations on offer include the Spanish Costas, the Algarve, Madeira, Sicily, Croatia, the Dolomites, Slovenia, Italy and Cyprus.
These holidays, which are available for travel between September 2021 and October 2022 also include £5m travel insurance with Covid-19 cover and up to four excursions as well as a host of all-inclusive offers exclusively for Saga customers**.
Holidays available include:
The Antedon in Turkey is based within private gardens and located directly on a pretty beach, 24 miles North of Antalya. Just five miles south is Kemer, a resort located within a picturesque pine valley and inland are the Taurus Mountains. Saga Holidays is offering seven nights from £549 and three weeks for the price of two for just £1,074 per person including the £75 discount.
The Helios Costa Tropical is just 50 yards from the beach and a mile's walk from the historic centre of Almuñécar in Spain. Nearby are chiringuitos (beach-front restaurants) and bars and the Sierra Nevada mountains sit behind the newly refurbished hotel. Available for seven nights half-board plus (breakfast and dinner with mineral water and glass of wine) with Saga Holidays from £499 and four weeks for the price of three starts from just £1,349 including the £150 discount.
The popular Hotel Port Denia overlooks the busy Spanish port and old town and is just 50 yards from the beach. Nearby is a local market, as well as Denia Castle and a local tapas trail and the hotel offers plenty of health and wellbeing facilities. Available for seven nights all-inclusive with Saga Holidays from £499 per person and those booking three weeks all-inclusive get the fourth week for free from just £1,449 per person with the £150 saving.
The 4* Hotel Agamenón in Minorca is based on the edge of the lively town of Es Castell and overlooks the beautiful Bay of Mahon. There's plenty to see and do in the local area, while the hotel is a peaceful and relaxing space. Seven nights with Saga Holidays half-board plus (breakfast, dinner and all local drinks for eight hours a day) starts from £649 per person. Customers who book for two weeks half-board plus can get a third week free from £1,224 per person with the £75 saving.
Holiday Inn Algarve is a 4* hotel in a prime location on Armacao de Pera's beautiful sandy beach and close to the resort's shops, bars and restaurants. Saga Holidays is offering seven nights all-inclusive** starts from £569 per person with the option to pay for three weeks all-inclusive and get the fourth for free from £1,749 per person.
The Monte Mar hotel in Madeira is located on a hillside above the small town of Ponta Delgada and its local marina. Nearby places to visit include São Vicente and Funchal. Prices for seven nights all-inclusive with Saga Holidays start from £549 per person with three weeks all-inclusive for the price of two at £1,324 per person with the saving.
The 4* Ramada Hotel and Suites in Slovenia is a modern, relaxed hotel offering set in the beautiful alpine resort of Kranjska Gora with its views of the Julian Alps, as well as bars, restaurants and a casino. Seven night all-inclusive** with Saga Holidays starts from £599 per person and those paying for two weeks all-inclusive get a third for free from £1,274.
In Cyprus, the 5* Radisson Beach Resort in Paphos is based on a Blue Flag beach and is a short drive away from Larnaca. Offered by Saga Holidays on a full-board plus basis (including breakfast, lunch, dinner and a 12-hour drinks package exclusive to Saga customers) from £649 per person, there's also the option to pay for three weeks and get a fourth week free now from £1,949 per person.
Customers can view the range of holidays and book now at saga.co.uk/holidays, by calling 0800 300 500 or through their travel agent.
Saga Holidays provides all guests will a dedicated host they can speak to 24 hours a day, plus additional extras only its customers can enjoy such as dedicated VIP Club lounge at many hotels.
The operator offers a price promise, which means that should they ever reduce their prices or bring in a new special offer after a customer has booked, they will calculate the difference and automatically pass the saving back. Saga Holidays will also offer customers a flight home and a full refund in the event they don't love their holiday after two days.
Chris Simmonds, Chief Executive Saga Holidays, said: "We've seen a spike in searches and bookings over recent weeks and our research shows that many of our customers are looking to travel for longer after so many months at home.
"Based on that we've developed a range of European holidays for travel from September 2021 and applied further savings for customers wanting to stay for three or four weeks. We also have a host of all-inclusive deals and our usual extras such as exclusive VIP Club lounges at excellent resorts that are only available to Saga customers, as well as dedicated reps available 24-hours a day.
All our holidays have up to £5m travel insurance with covid cover and as our customers would expect, their wellbeing is at the heart of what we do, so we've worked with our global partners to introduce covid-safe protocols and we require all guests to have had both vaccines well in advance of travel".
The safety and wellbeing of customers is Saga's number one priority and the tour operator requires all guests to have both doses of the Covid-19 vaccine at least 14-days ahead of travel. This is one of a number of measures Saga's dedicated health and safety team have introduced as they work closely with their long-standing global partners on Covid-safe protocols. Saga is also monitoring the Covid-specific requirements of each destination and will communicate them with customers ahead of departure.
Photos are available to download from: Saga - Images & Reports.
Media contact: sagatravel@headlandconsultancy.com
Ends
Notes to editors
Terms and conditions apply. See saga.co.uk/holidays for details.
All prices and holidays subject to availability
Travel dates available between September 2021 and October 2022
*Three weeks for the price of two and four weeks for the price of three deals available for selected travel dates by destination
**All-inclusive option offered exclusively to Saga customers
All holidays are inclusive of up to four excursions (and at least two)
Travel insurance with up to £5m coronavirus cover included. Price reduction available if insurance is not required.
Sole occupancy rooms are available at no extra cost
All customers are required to have had both Covid-19 vaccines at least 14-days in advance of travel
Saga Holidays has worked with its global partners including airlines, hotels, excursion companies and the UK and overseas Governments to introduce covid-safe protocols and all Saga reps have undergone specific training on their observance
About Saga
Saga is a leading provider of products and services primarily tailored for customers over the age of 50 in the UK. The saga brand has been carefully developed over the past 70 years to become one of the most recognised and trusted brands among UK consumers aged over 50. Saga is synonymous in the UK with the over 50s market and is recognised for its high-quality products and services. These include cruises and holidays, home and motor insurance, savings and share dealing and the UK's award-winning Saga magazine.
Downloads