04 June 2022, 16:03
Saga goes all out to celebrate Her Majesty the Queen's Platinum Jubilee on its cruise ships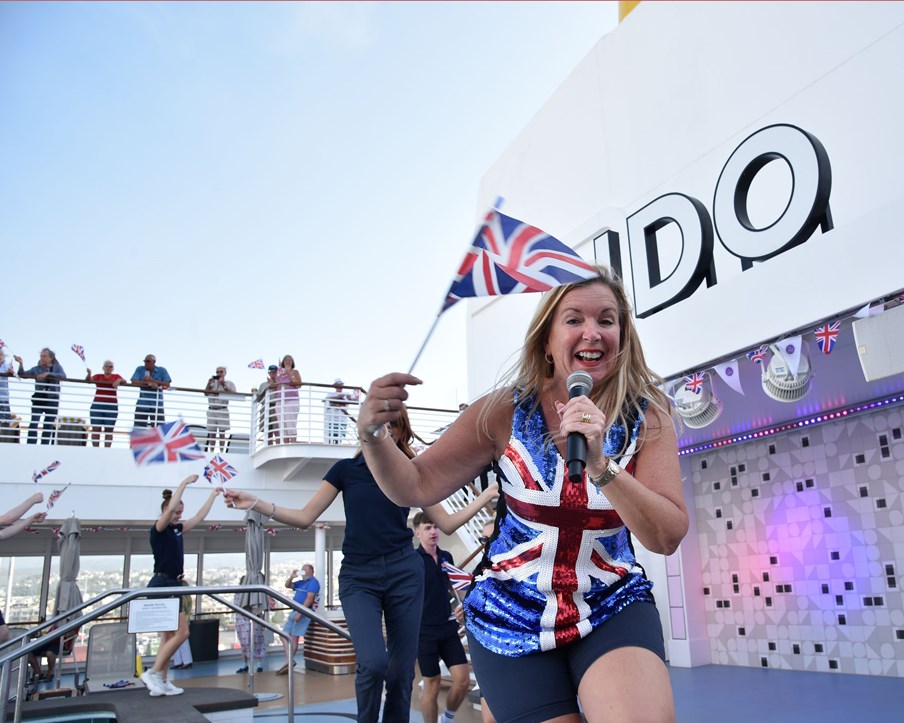 Saturday, June 4, 2022: Saga Cruises is ensuring the Platinum Jubilee is well and truly celebrated on board its cruise ships with a host of celebrations over the bank holiday weekend.
Guests are enjoying a plethora of activities on both Saga's ocean ships, including a Platinum Party in the Britannia Lounges, Afternoon Tea, and a formal Jubilee dinner featuring special 'royal' dishes from the four corners of the United Kingdom, including beef Wellington, Balmoral haunch of venison, Gressingham duck, Dover sole, Morecombe Bay scallops and 'Prince of Wales' tournedos. It will be finished off with the winning dessert from a national competition that Fortnum and Mason ran to find the best recipe for the official platinum pudding - a lemon Swiss roll and Amaretti trifle.
There is also a 'Proms at sea' variety performance, plus a good old-fashioned British pub knees-up in the on-board bars. A Service of Thanksgiving will also be held.
The ships have been decorated with bunting and flags and at mid-day on June 4 both ships' whistle sounded in salute, followed by a rousing rendition of the National Anthem on deck that guests were invited to join in with.
Guests on Saga's Spirit of Discovery cruise ship will enjoy music from 'The Beatles Experience' and a lecture from Robert Large, who has recently retired after 23-years as a Royal Yeoman and Head Sommelier responsible for Her Majesty's liquor and wine stores.
Robert will also be showing off his skills by creating cocktails from some of The Queen's favourite tipples including a Martini, gin and Dubonnet option and a Sloe Royale using Buckingham Palace sloe gin to be featured on both ships.
On Saga's Spirit of Adventure ship, music will be supplied by 'The Story of the Searchers' featuring Spencer James and there will be presentation from royal photographer and four-times winner of the British Press Photographer of the Year award, Ken Lennox.
Nigel Blanks, CEO of Saga Cruises, said: "We're throwing quite the Jubilee celebrations on our ships with something for everyone from a Platinum Party to a ship's salute, plus music, royal lecturers and plenty of great food and drink. We want to ensure we mark such an historic occasion as Her Majesty's Platinum Jubilee in a way our guests will both expect and enjoy.
"We send our very best wishes to Her Majesty and the Royal family and will be joining with the rest of the country to mark this momentous occasion with the celebrations it so richly deserves."
Photos from on board the ships can be downloaded from (additional images will be added tomorrow as the weekend activity progresses).
Downloads