24 July 2020, 14:17
Saga's Spirit of Adventure Floats Out Ahead of Sea Trials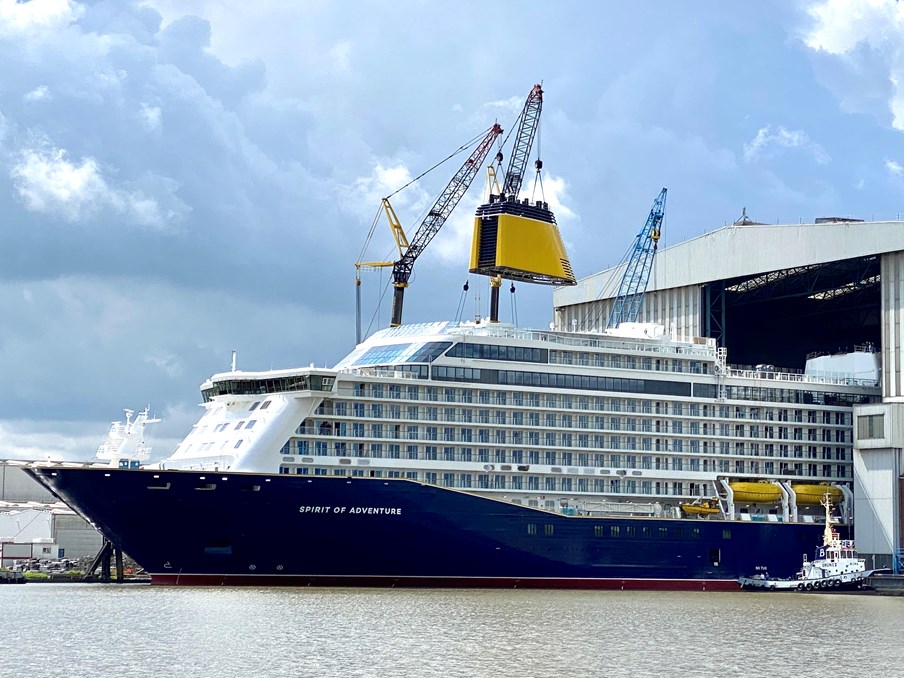 The latest addition to Saga's ocean cruise fleet, Spirit of Adventure, floated out of the covered building dock at the Meyer Werft shipyard in Papenburg, Germany this morning.
Saga is expecting to take delivery of Spirit of Adventure, it's second purpose-built boutique cruise ship, in the Autumn ahead of her planned inaugural sailing. She will shortly undergo sea trials and her interiors will be fully outfitted ready to welcome the first guests onboard. She has 554 all balcony cabins and can accommodate 999 passengers, with the ability to reach speeds of more than 18 knots.
For her first voyage, Spirit of Adventure will leave Southampton on the 5th November to sail the Mediterranean, before returning to the UK. The details of the naming ceremony will be provided nearer to the date of the inaugural cruise. This comes a year after the Meyer Werft shipyard floated its sister ship, Spirit of Discovery, in May 2019.
Nigel Blanks, Managing Director of Saga Cruises, said:
"This is a very exciting day as it brings us another step closer to being able to welcome Spirit of Adventure to our fleet. Over the past 18 months, we have been focused on creating a British boutique cruising experience for our guests that is not available elsewhere on the market. The arrival of Spirit of Discovery last year was the first milestone in this plan and the ship has been extremely well received by our guests. I'm confident that Spirit of Adventure will see an equally warm welcome and I cannot wait for guests to join us onboard and enjoy all she has to offer".
In response to the COVID-19 pandemic, Saga has been working closely with the relevant government departments and industry trade body CLIA to ensure it has in place the most stringent health and safety measures to ensure a safe return to cruising once advice from the FCO changes.
Notes to editors
About Saga
Saga is a leading provider of products and services primarily tailored for customers over the age of 50 in the UK. The Saga brand has been carefully developed over the past 60 years to become one of the most recognised and trusted brands among UK consumers aged over 50. Saga is synonymous in the UK with the over 50s market and is recognised for its high quality products and services. These include cruises and holidays, home and motor insurance, savings and share dealing and the UK's award winning Saga Magazine.
Downloads