14 September 2023, 08:30
Titan Travel's inaugural private jet adventure departs on a grand tour from Rome to Rajasthan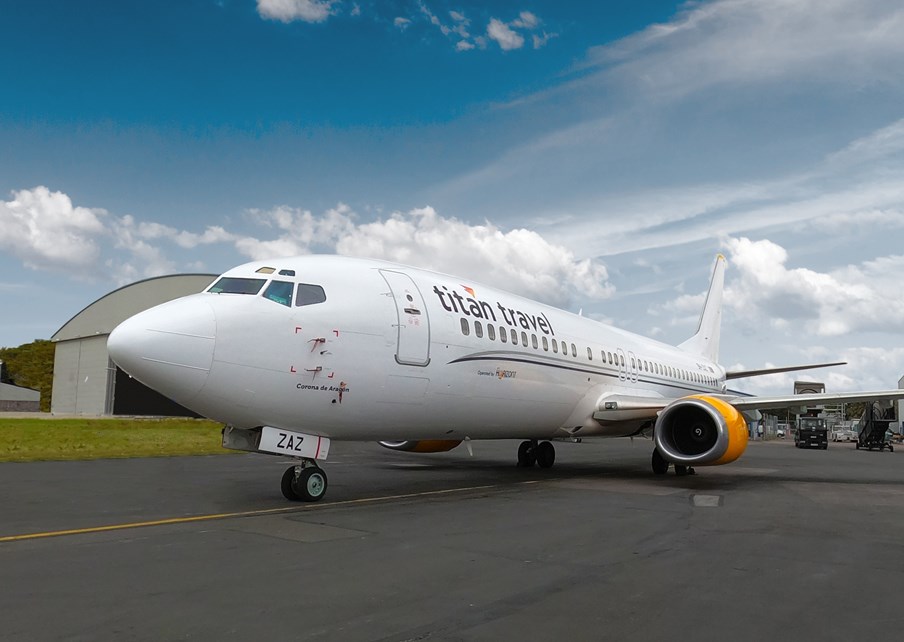 Yesterday, (13 September 2023) Titan Travel, part of the Saga Travel Group and the UK's most award-winning tour operator, waved off its first-ever private jet holiday on a 23-day 'Captivating Cultures' grand tour.
Operating under the flight number HAT2130, the 737-400 single aisle aircraft left from the private terminal at Stansted Airport at 9am.
There are five cabin crew on board to provide the highest levels of customer service, and a flight deck of three pilots. Also on board throughout are three expert tour managers and an aviation specialist operations director who will ensure every step of the tour is seamless.
Saga Travel Group's CEO, John Constable, and Marketing Director, Lisa Warner were on hand to see the group off on their travels.
Constable said: "We're delighted that our inaugural private jet tour has taken to the skies, and we wish all our guests an incredible, once-in-a-lifetime adventure.
"They were in high-spirits as they boarded, looking forward to the next 23-days and nine cultural destinations from Petra to the Taj Mahal and Samarkand. We can't wait to hear all their stories when they return!"
Jenny from Yorkshire, who is a guest on the tour, said: "We chose this holiday for the experience as the itinerary looks fabulous. It's absolutely, hassle-free luxury.
"We look for holidays that excite us and this has a great balance of touring, but over a longer period so it's a perfect combination. When we first saw it online, we just said, "that's got our name written all over it!"
After departing London, the tour headed first to Rome and will conclude in Istanbul on 5 October, stopping along the way in show-stopping Montenegro, Jordan, India and Uzbekistan. There will be once-in-a-lifetime experiences, many of which will be exclusive to the group including a visit to the Vatican before it opens, cruising in the breathtaking Bay of Kotor, visiting iconic Petra and sitting under the stars in Wadi Rum desert. India involves a tour of the Palace of the Winds, game drives in search of tigers and dawn views of the Taj Mahal.
The group will also dine overlooking Uzbekistan's beautiful city of Samarkand and explore Istanbul's highlights before a farewell dinner to remember.
The flight times range between 1 hour and 16 minutes, and 5 hours and 53 minutes.
Titan is repeating the Captivating Cultures private jet tour in September 2024, and also has a 21-day round-the-world tour that departs in November 2024 and takes in Rio de Janeiro, Easter Island, Fiji, Sydney, Siem Reap, Agra, Delhi and the Maasai Mara. Titan, the UK's most awarded tour operator, is also set to launch a new 2025 Spice Route private jet tour shortly.
John Constable continued: "The Captivating Cultures private jet tour has proved incredibly popular and was 70% sold within two months of opening for sale, so we are hosting another one next year, along with a round-the-world option. There's also a 2025 Spice Route launching on sale in the coming weeks, which we've already had significant pre-registrations for."
To find out more information or to book Titan's next Captivating Cultures private jet tour departing on 4 September 2024 visit titantravel.co.uk or call 0808 239 2839. Prices start from £29,995 per person.
Ends
For journalist enquiries, please contact: sagatravel@headlandconsultancy.com.
For images, please visit: Saga's newsroom.
ends
Notes to editors
Notes to editors:
Guests interested in Titan's Round-the-World private jet tour departing on 21 November 2024 van visit titantravel.co.uk or call 0808 239 2839 for more information. Prices start from £49,995 per person.
About Titan Travel
Part of Saga Travel Group, Titan Travel is the UK's most awarded tour-operator and has 45 years of experience creating effortless adventures, covering over 60 countries and six continents.
From small group tours, wildlife adventures, to solo travel – Titan is the expert in escorted touring and has perfected itinerary planning to deliver the best touring experiences worldwide. With excursions, hotels, entry tickets and dining packages on each tour, Titan provides exceptional value to all its customers. With knowledgeable and passionate tour managers accompanying each tour, Titan is on hand every step of the way.
Downloads
Titan Travel's Captivating Cultures private jet tour - external aircraft

Download